MILD, NATURAL, ORGANIC,
SULFATE-FREE, SILICONE-FREE
STUDY ANYTIME, ANYWHERE, AT YOUR OWN PACE,




AND GROW YOUR OWN SUCCESSFUL BUSINESS
Learn to make mild natural organic haircare products, including various types of shampoo, conditioner, and hair serum for any hair type (straight, wavy, thick, fine, curly, coily, textured) the SAFE and CORRECT way with this online homestudy course.
This online diploma does not have a venue/location because it is conducted over the Internet. As long as you have Internet access you can do the course on your computer, tablet or phone from anywhere in the world at your own pace.
---
WHY WE CREATED THIS COURSE
The increasing consumer demand for natural and organic personal care products has changed the dynamic of the cosmetic industry. Companies are now forced to change their formulations to be naturally compliant, and numerous brands with natural or organic claims are surfacing every day.
Unfortunately research and development has not yet caught up with the growing demand and the Internet is now flooded with unreliable tips, recipes, and courses that do not offer sound and practical information on how to formulate a stable natural product. This trend is even more prevalent in natural haircare formulation due to the highly complex nature and chemistry of surfactants.
---
THIS COURSE IS FOR YOU IF
You want to understand how to PROFESSIONALLY formulate mild, natural, organic, sulfate and silicone-free hair products for different hair types including straight, wavy, curly, coily, textured, thick, and fine.
You have a basic knowledge on formulation and making products.
You want to study anytime, anywhere, at your own pace.
You want to understand what "natural" and "organic" means in haircare formulation.
You want to know how to make a stable formula with high performing ingredients and effective natural preservatives.
---
WHY LEARN WITH US
This course is the result of years of experience and knowledge from key expert hair formulation chemists.
Our experts tested hundreds of ingredients and selected for this course, only the top performing.
We tested these ingredients in scientific formulas and compared their performance against their synthetic alternatives.
We interviewed all major ingredient manufacturers like BASF, Dow Corning, Evonik. Stepan, etc to get the most up to date information in the market.
We also did several trial runs of this course offline to gather feedback from participants and offer you the best organic haircare formulation diploma in the market.
Unlike some course providers we are not affiliated with a certain ingredient supplier and thus have an unbiased view of ingredients and have only picked those which perform the best and are easy to use.
This course will arm you with the practical knowledge to make a full range of mild, stable, high-functioning, truly natural and organic haircare line. We are the only course provider that will enable you to tailor the mildness of your product.
Support from discussion group of over 13,000 members : as we are co-admins of a formulation discussion group which has over 13,000 members you will not only have our expert haircare chemist's support but that of other highly experienced and knowledgeable chemists and formulators and in addition, microbiologists.
---
Real Testimonials from Our Workshops
---
"I feel able to go home and make a product for myself, or have a go at teaching with confidence. I can't think of a way to improve as I felt I learned a lot."
---
"There is a lot of information and I am extremely happy with the way the workshop is made. What I liked best was the professional and accurate information."
---
"Excellent teaching skills. Love the class and hoping to join more classes in the future. Explained well. Good information. There is nothing I didn't like."
---
"The scope and breadth was wide, meaning that I was able to understand both the theory (chemistry) as well as the practical side."
---
"What I liked best was the knowledgeable, professional, and friendly workshop leader. There is nothing I didn't like about this workshop."
---
"The theory of chemistry was very good practical and was enjoyable. Understanding the chemistry of ingredients was the best part. Love everything about the workshop."
---
TIMELINE
Enroll, then start at any time
Total Duration : Work at your own pace.
Receive Certificate upon completion
Retain access to course for 6 months.
Live discussion available for each chapter, where you can ask your questions.
Support from formulation discussion group of over 13,000 members.
---
WHAT YOU WILL LEARN
---
WHATS INCLUDED
In addition to the lectures and course notes :
Course certification
Mild, natural, organic, sulfate-free surfactant reference chart
Mild, natural, organic, sulfate-free ingredients, properties, and benefits
Comprehensive range of natural, organic, sulfate-free haircare formulas and formulation guideline
Multimedia modules with videos, images, and course notes
Recipe calculator for haircare products
Surfactant active matter calculator (ESSENTIAL for mild/balanced formulations)*
* ONLY available at Formulate Natural Cosmetics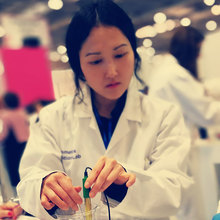 Cosmetic Chemist
Christine Hwang
Christine is a cosmetic chemist and formulator, with experience working extensively with industry leading formulators and ingredient supplier chemists around the world. She is passionate about sharing her experience in formulating natural and organic products.
1

Free Webinar (Live Recording) : How to Dupe Bvlgari's $45 Green Tea Conditioner

2

INTRODUCTION TO NATURAL & ORGANIC STANDARDS

Understanding Natural & Organic Standards (Audio Presentation)

Understanding Natural & Organic Standards (Lecture Notes)

Natural & Organic Haircare Ingredients : Properties and Benefits

Quiz : Introduction to Natural & Organic Standards

Q&A : Introduction to Natural & Organic Standards

3

UNDERSTANDING SURFACTANTS

What are Surfactants and How Do They Work? (Audio Presentation)

Types of surfactants : Anionic, Amphoteric, Non-ionic, and Cationic (Audio Presentation)

Understanding Surfactants (Lecture Notes)

Quiz : Understanding Surfactants

Q&A : Understanding Surfactants

4

TAILORING FOR DIFFERENT HAIR TYPES

Tailoring Shampoo, Hair Conditioner, and Hair Serum for Different Hair Types (Presentation & Notes)

Quiz : Tailoring for Different Hair Types

Q&A : Tailoring for Different Hair Types

5

Recommended Ingredients (Downloadable PDF Content)

Recommended Suppliers (Downloadable PDF Content)

Recommended Equipment (Downloadable PDF Content)

Preservation Strategy & Recommended Preservatives

Accurate Measurements & Tools

Essential Information : Making Shampoo & Conditioner

Other Essential Information : Heating Methods, Mixing Strategy, Making up for Water Loss, and Adjusting pH

Q&A : Essential Information

6

SHAMPOO : MILD, NATURAL, ORGANIC, SULFATE-FREE

Shampoo for Dry or Textured Hair (Formulation Tutorial Video)

Shampoo for Dry or Textured Hair (Presentation)

Everyday Shampoo for Normal Hair (Formulation Tutorial Video)

Everyday Shampoo for Normal Hair (Presentation)

Clarifying Shampoo for Oily Hair (Formulation Tutorial Video)

Clarifying Shampoo for Oily Hair (Presentation)

Solid Shampoo Bar (Formulation Tutorial Video)

Solid Shampoo Bar (Presentation)

7

CONDITIONER : MILD, NATURAL, ORGANIC, SILICONE-FREE

Everyday Conditioner for Normal to Oily Hair (Formulation Tutorial Video)

Everyday Conditioner for Normal to Oily Hair (Presentation)

Cream Conditioner for Dry, Textured Hair (Formulation Tutorial Video)

Cream Conditioner for Dry, Textured Hair (Presentation)

Hair Repairing Mask Treatment (Formulation Tutorial Video)

Hair Repairing Mask Treatment (Presentation)

Solid Conditioner Bar (Formulation Tutorial Video)

Solid Conditioner Bar (Presentation)

Mild Cleansing Conditioner : Co-wash (Formulation Tutorial Video)

Mild Cleansing Conditioner : Co-wash (Presentation)

8

HAIR STYLING : MILD, NATURAL, ORGANIC, SILICONE-FREE

Duplicating $70 Intensely Nourishing Hair Serum for Dry to Normal hair (Formulation Tutorial Video)

Duplicating $70 Intensely Nourishing Hair Serum for Dry to Normal hair (Presentation)

Featherlight Oil-free Conditioning Spray for Oily Hair (Formulation Tutorial Video)

Featherlight Oil-free Conditioning Spray for Oily Hair (Presentation)

Nourishing Hair Butter for Extremely Dry or Textured Hair (Formulation Tutorial Video)

Nourishing Hair Butter for Extremely Dry or Textured Hair (Presentation)

Natural Curl Defining Custard Cream (Formulation Tutorial Video)

Natural Curl Defining Custard Cream (Presentation)

Natural Sea Salt Texturising Spray (Formulation Tutorial Video)

Natural Sea Salt Texturising Spray (Presentation)

Quiz : Hair Styling Products

Q&A : Hair Styling Products